Are stars powered from within, or does the power come from elsewhere? This was the question asked by Sir Arthur Eddington in the 1920s. He settled for the former, and this laid the foundation for current mainstream models. Ralph Juergens asked the question again in the 1970s, and opted for the latter. According to Juergens, stars shine because they are connected to electric circuitry within galaxies. An electric star's brightness thus depends on the power of the electric current feeding it, not on the amount of nuclear fuel available to burn.
  Stars thus behave as electrodes in a galactic glow discharge. The many surface phenomena that can be seen on the Sun -- hot corona, sunspots, prominences, flares, et al -- can all be explained by an electric Sun, but are more difficult to understand from a nuclear point of view. Nuclear reactions take place on the surface, not in the core, perhaps explaining why neutrino numbers vary with sunspot cycles, and these reactions are almost certainly produced in the same way that we produce them in the lab -- by accelerating particles in an electric field.
Stars, galaxies, nebulae, and planets are all affected by electric currents in the plasma through which they move. If the appearance of a star is determined largely by its electrical environment, it follows that it can change relatively quickly!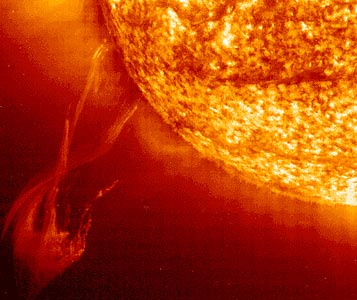 Vedic Perspective
Srimad-Bhagavatam 3.15.2       Description of the Kingdom of God
 By the force of the pregnancy of Diti, the light of the sun and moon was impaired in all the planets, and the demigods of various planets, being disturbed by that force, asked the creator of the universe, Brahma, "What is this expansion of darkness in all directions?"
                             PURPORT
   It appears from this verse of Srimad-Bhagavatam that the sun is the source of light for all the planets in the universe. The modern scientific theory which states that there are many suns in each universe is not supported by this verse. It is understood that in each universe there is only one sun, which supplies light to all the planets. In Bhagavad-gita the moon is also stated to be one of the stars. There are many stars, and when we see them glittering at night we can understand that they are reflectors of light; just as moonlight is a reflection of sunlight, other planets also reflect sunlight, and there are many other planets which cannot be seen by our naked eyes. The demoniac influence of the sons in the womb of Diti expanded darkness throughout the universe.